Porcelain Veneers in Whitby, ON
Achieve The Smile of Your Dreams
It can be tricky to achieve a straight, sparkling smile. A variety of factors such as genetics, age, and diet may make it harder to achieve and maintain that enviable shade of pearly white. Additionally, when oral health issues like misalignment go untreated for an extended period, they tend to require more invasive treatment to correct.
Teeth whitening, Invisalign®, and dental implants can do wonders for correcting these issues, but don't always fit a patient's lifestyle. Fortunately, the dentists at Dentistry on Dundas can quickly enhance your smile, preserve your remaining enamel, and even protect your teeth from sensitivity with porcelain veneers.
What Are Porcelain Veneers?
Porcelain veneers are thin, tooth-shaped, porcelain shells. They're adhered to the front of your teeth to hide cosmetic flaws, enhance your appearance, and boost your self confidence. The dental professionals at Dentistry on Dundas will customize your veneers so they blend in seamlessly with your natural smile.  
Benefits of Porcelain Veneers
Porcelain veneers can enhance your smile by masking cosmetic flaws, including:
Small gaps between teeth

Discolored teeth that are resistant to whitening

Crooked or misaligned teeth

Teeth that are chipped or damaged
Beyond covering cosmetic flaws, porcelain veneers offer a variety of additional benefits, including: 
Enhanced Durability

Stain Resistance

Added protection against temperature sensitivity

Enamel strengthening

Discreet, natural-looking appearance

Faster treatment 
The Porcelain Veneers Process
Initial Consultation
Before your porcelain veneers procedure, you'll attend an initial consultation with one of our dentists at our Whitby, ON office. During your consultation, your dentist will thoroughly examine your mouth, review your medical history, and discuss your smile goals with you. The information they gather will help them determine if you're a good candidate for porcelain veneers. They'll also discuss costs and possible financing options with you to ensure your treatment is affordable. 
Designing Your Porcelain Veneers
Once you and your dental professional have decided that porcelain veneers are the appropriate treatment option for you, we'll show you options for the porcelain that will be used to create your veneers. We can either match your veneers to your natural tooth color or choose a whiter shade for a brightened appearance. Either way, your veneers will be customized to blend in seamlessly with your smile.
Once you've chosen your shade of porcelain, we'll take pictures and impressions of your teeth and send them to a special laboratory, where they'll be used as the blueprint for your veneers. 
Preparing Your Teeth For Veneers
Before applying your veneers, we'll clean your mouth and your dentist will remove a tiny amount of enamel from the fronts of your teeth. Removing this small bit of enamel will provide a surface that's easier for the veneers to grip and make them adhere evenly for a more natural appearance. 
Applying Your Porcelain Veneers
Before your dentist installs your veneers, we'll check with you to make sure that they're to your liking. If everything is as it should be, your dentist will apply the veneers to the fronts of your teeth using a special dental adhesive. You'll be able to leave that day with a stunning new smile. 
Frequently Asked Questions
How long does it take to create porcelain veneers?
Crafting your porcelain veneers usually takes between two and four weeks to complete. Depending on your dental needs, your dentist may install temporary veneers for you to test out before your permanent veneers are ready. 
How long do porcelain veneers last?
Porcelain veneers are designed to last for 15 years. However, they can last up to 30 years with proper oral hygiene and regular dental exams with one of the dentists at our Whitby, ON office. 
How do I care for my veneers?
In order to preserve and maintain your porcelain veneers for as long as possible, the professionals at Dentistry On Dundas recommend following these guidelines:
Brush your teeth at least twice a day for at least two minutes

Use a soft bristled toothbrush and non-abrasive, non-whitening toothpaste

Floss at least once a day, preferably before bedtime

Rinse with mouthwash between meals

Visit Dentistry on Dundas at least once every six months for regular dental exams

Avoid eating or chewing on things that are hard or crunchy 
What do I do if one of my veneers breaks?
If one of your veneers breaks, don't attempt to reattach it yourself. Instead, place the broken pieces in a plastic container and call Dentistry on Dundas at (905) 666-1555 to schedule an appointment. Bring the pieces with you on your appointment date so we can attempt to repair them. If the veneer can't be saved, we'll recommend options for replacement.   
Ready To Enhance Your Smile? Call Dentistry on Dundas!
At Dentistry On Dundas, our skilled team of dental professionals can use porcelain veneers to help you smile your brightest and feel your best. Your porcelain veneers will be customized to your liking, so you can finally have the smile you've always wanted without more drawn out, costly, or invasive procedures.
To learn more about how porcelain veneers can enhance your smile, or to schedule a consultation with a dentist at our Whitby, ON office, dial (905) 666-1555. You can also get in touch by filling out the contact form at the bottom of the page and a friendly team member will get back to you shortly.      
Before And After Photos: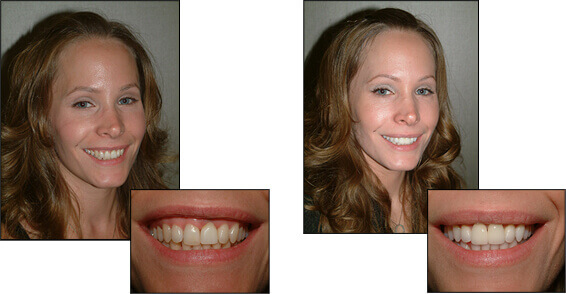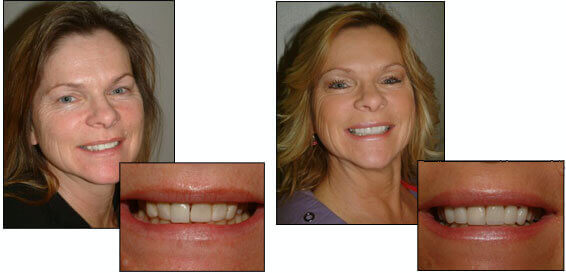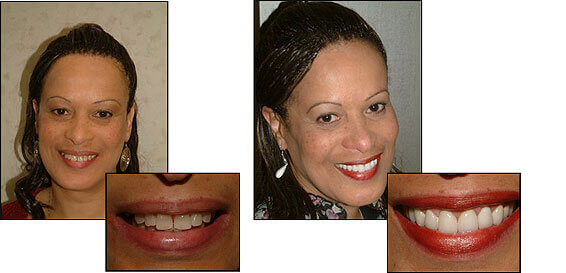 "*" indicates required fields