Sleep Dentistry Whitby, Dental Anesthesia, Sleep Your Fears Away, Children Sedation and Sleep Dentistry, and Sedation Dentistry Whitby
Sedation Dentistry in Whitby, ON
Say Goodnight to Dental Fear With Sedation Dentistry
Do you experience fear, nervousness, or anxiety at the mere thought of going to the dentist? If so, you're probably one of the estimated 36 percent of people worldwide who suffer from dental fear. Dental fear, also called dental phobia, is characterized as fear, stress, and/or anxiety toward the dentist. Dental fear can occur for a number of reasons including negative past dental experiences, the sound and sight of dental instruments, or common stereotypes about dentistry. 
Regardless of the reasons, those who suffer from dental fear often skip the dentist and put themselves at much greater risk of oral health complications. Our Whitby, ON dentists and the rest of our team at Dentistry on Dundas understand that these fears, whether they be mild or severe, can make visiting the dentist difficult if not impossible. 
We pride ourselves on offering compassionate and professional care, which is why we offer sedation dentistry options to patients who may have trouble visiting our Whitby office due to dental fear. Keep reading to learn more about sedation dentistry and how it can help patients overcome their fears and get the top-quality care they deserve.
What Is Sedation Dentistry?
Sedation dentistry, also referred to as dentistry asleep and sleep dentistry, refers to methods and techniques used to temporarily put patients in states of calm or even sleep. Using sleep dentistry, patients can undergo dental treatments and procedures without dental fear, encouraging them to see their dentist and get the care they need to stay healthy. Sedation dentistry comes in numerous forms, each with its own unique set of benefits. We offer: 
Nitrous Oxide (Laughing Gas)
Nitrous oxide, also known as laughing gas, is one of the most widely utilized forms of sedation dentistry. It takes the form of a colorless, non-flammable gas that your Whitby dentist will have you inhale during your procedure. As the nickname implies, nitrous oxide often produces feelings of giddiness and euphoria. 
While nitrous oxide is likely to help you feel relaxed, it's not known to put people to sleep. In fact, it's known as a conscious sedation method, which involves using sedatives alongside pain medication to ensure your experience is both relaxing and painless, while still allowing you to stay awake and aware. By keeping you conscious, your Whitby dentist will have an easier time monitoring your health and ensuring your safety. 
Nitrous oxide is administered in-office and the effects tend to wear off within minutes once the flow of gas has stopped. Unlike other forms of sedation, the effects of the nitrous oxide wear off so quickly that you are able to leave soon after the gas is turned off and can even drive home. 
Oral conscious sedation, also known as enteral sedation, involves a pill or liquid that your Whitby dentist will provide and instruct you to take at a prescribed time, usually an hour before your procedure. Common substances used in oral sedation include Valium, Ativan, and Halcion. Depending on the type of procedure you're scheduled for, you may also have an anesthetic prescribed alongside your sedative, or have your anesthetic applied when you arrive at our Whitby, ON office.
As a form of conscious sedation, oral sedation will allow you to remain awake and responsive, likely making your procedure much safer. However, the effects of oral sedation tend to last longer than laughing gas. We strongly recommend you procure a ride home afterward and not participate in driving or other risky activities for 24 hours. 
Additionally, oral sedation may also give you temporary amnesia, causing some parts of your dental visit to be forgotten entirely. Not being able to remember certain parts of their dental procedure can be a boon to patients with more severe levels of dental fear. 
Intravenous (IV) Sedation
Intravenous sedation or IV sedation involves your dentist introducing the sedative directly into your veins. This form of sedation acts quickly, usually within minutes, but much like oral sedation it also lasts longer. You'll need a ride home and ideally, you should take at least 24 hours to rest and fully recover from the effects. 
Common substances used for intravenous sedation include Midazolam, Ketamine, Propofol, and Dexmedetomidine. As with oral sedation, the medications used in IV sedation may give you temporary amnesia regarding the procedure. This can be beneficial to patients with more severe dental fear. 
Who Can Benefit From Sedation Dentistry?
People who can benefit from sedation dentistry include patients:
With mild to severe dental fear

Who are very young and/or are unused to dentists

Who have a strong gag reflex

Who have a resistance to anesthetic

Who find it difficult to sit in the dental chair for long, extensive appointments

Who have certain medical conditions or disabilities

Who are elderly and more prone to fear and embarrassment around their oral health
Important Preparation Guidelines For Sedation Dentistry
If you elect to undergo sedation during your procedure, there are important steps you must take beforehand to help ensure your safety. Your dentist will give you more specific instructions, but common rules to follow include the following:
Refrain from eating anything

eight hours

prior to the sedation appointment. Eating before the appointment can lead to emesis (vomiting) and asphyxiation (choking). 

Clear fluids are allowed up to

4 hours

prior to the sedation appointment since these are the fluids that will leave your system fastest, reducing the chances of choking and/or vomiting. 

Wear loose, comfortable clothing and short sleeves so you stay comfortable and so we can monitor vitals and place IVs.

If it's deemed necessary by your dentist, please come to your appointment with a responsible adult who can drive you home.

Do not wear contact lenses, jewelry, or nail polish to the sedation appointment. Contact lenses can dry your eyes out or damage them while you're sedated. Jewelry can damage the body due to pressure and interaction with surgical equipment. Painted or otherwise obscured nails can hide signs of

cyanosis

, an issue

caused by low oxygen levels in the blood which often results in blue-ish discoloration of the lips, face, and nail beds.
What To Expect During Sedation Dentistry
First, your Whitby dental professional will attach various monitors, such as a blood pressure cuff on your arm and a sensor will be placed on your finger. Once the monitors are in place and our dental professionals are sure they're working properly, they'll apply your sedative of choice. 
If you underwent sedation using a method other than nitrous oxide, you may or may not feel dizzy or disoriented for about 30-60 minutes afterward. From there, you'll need to be accompanied by a responsible adult who can drive you home and will need to rest for at least the remainder of the day.
Frequently Asked Questions
Relax During Your Whitby Dental Visit With Sedation Dentistry
With sedation dentistry, your Whitby dentist can help you overcome problems with dental fear and ensure your procedure is comfortable and goes by quickly. Our anesthesiologist and our skilled dental team offer their years of experience in sedation dentistry to Whitby patients and patients from surrounding areas including Oshawa, Ajax, and Courtice, ON. 
If you're experiencing dental fear at the thought of seeing your Whitby dentist, or you want to learn more about the benefits of sedation dentistry, contact Dentistry on Dundas by dialing (905) 666-1555. You can also submit the contact form below and a friendly team member will return your message shortly.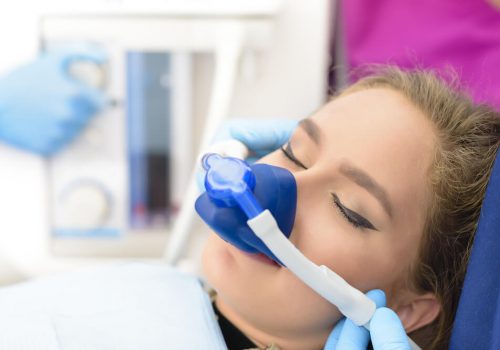 Checkup

Procedures

Cosmetic

Emergency

"*" indicates required fields